BIZ GPS delivers first batch of Suzuki outboard engines to CODA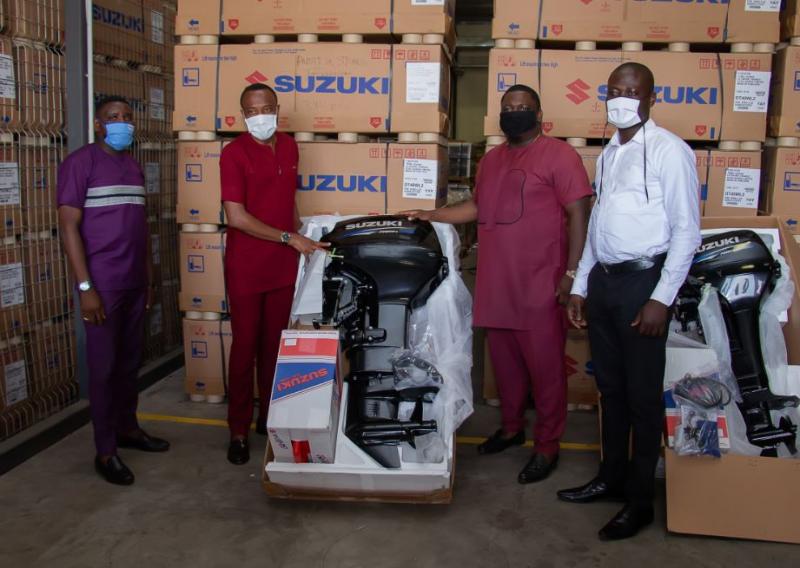 2020, October 09
BIZGPS Solutions Company Ltd in partnership with Suzuki by CFAO, has successfully delivered the first units of 40HP and 15HP Suzuki Outboard engines to the Coastal Development Authority (CODA) on Tuesday 29th September 2020.
This delivery represents the first batch of 1282 Suzuki outboard engines awarded to BIZGPS Solution by CODA to be distributed to fisher folks in Greater Accra, Central, Western, and Volta Regions at highly subsidized prices.
Suzuki's outboard engines have proven to be powerful and fuel efficient and as such is quickly becoming the favourite and preferred outboard engine for the fishing community in Ghana. Thus, as part of the sensitization tour last year along the coastal regions of Ghana, saw a high demand by fisher folks for an alternative engine to what they are used to that has such qualities.
It was therefore not surprising that, demand for Suzuki outboard engines amongst the fishing community saw a rather high trend particularly when Suzuki emphasized the commitment to undertake free periodic maintenance servicing for two (2) years on all Suzuki outboard engines distributed by CODA.
Briefing the media, the Chief Executive Officer (CEO) of CODA, Jerry Ahmed Shaib stated emphatically that, "the Authority procured the outboard engines on the directive of His Excellency the President, to purposely help alleviate poverty within the fishing community by empowering them to do their business through the distribution of outboard engines at highly subsidized prices".
Suzuki by CFAO is also committed to ensuring the fisher folks maximize returns from the use of their Suzuki outboard engines by providing free two (2) year periodic maintenance and servicing of all units, as well as some CSR activities for the benefit of all fisher folks along the coastal areas under CODA.
Under the intervention, a 40-horsepower outboard engine is being subsidized and sold at Ghs10,000 whiles a 15-horsepower outboard motor is being subsidized and sold at Ghs5,000.
All fisher folks who had their names captured during the sensitization tour or are interested in the purchase of the subsidized Suzuki outboard engines can visit the head office of CODA in Accra to pay and collect their units.
Back to the list